This post brought to you by Daytona Beach Area Convention & Visitors Bureau. The content and opinions expressed below are that of Spa Travel Gal.
The east coast of Florida holds one of the greatest and most popular beaches you can visit, Daytona Beach. The perfect destination for your next family vacation, Daytona Beach offers a wide variety of activities, dining options and gorgeous beach shores. Daytona Beach also has some of the most exciting fall festivals, family vacation destinations and beautiful beaches.
The beaches of Daytona are very unique compared to others in the region. They are covered in gorgeous white sand that sits densely on the shore allowing for visitors to drive their cars right along the water's edge. The sandy shore is lined with great options for your family's stay including hotels, motels, condo rentals, bed and breakfast inns, vacation rentals and camping grounds.
Some of us visit the beach to flop down and take in the warmth of the sun or read a book. If your family wants more activity to during your vacation, Daytona Beach has tons of exciting options that are all close-by. The beach awaits you and your family this fall.
Any Outdoor Fun and fishing lovers in your family? You can go deep-sea fishing where some of the best bass fishing in Florida is offered, rent equipment for endless water sports or visit one of Daytona's historical sites. At night, chose from a number of Daytona's fine dinning and restaurants, bars or dance clubs.
Did you know Daytona is the Festival Capital of Florida ? Fall festivals make this one of the best times of the year to visit Daytona Beach so that you can join in experiencing the fall festivals. Attend the Daytona Beach Blues Festival or find daily live music at Bruce Rossmeyer's. If you love art, you can attend the Halifax art festival or Daytona Beach's film festival. And there is always the Wings and Waves air show where over 40 different Air Force aircrafts give an astonishing aerial performance over the Atlantic Ocean.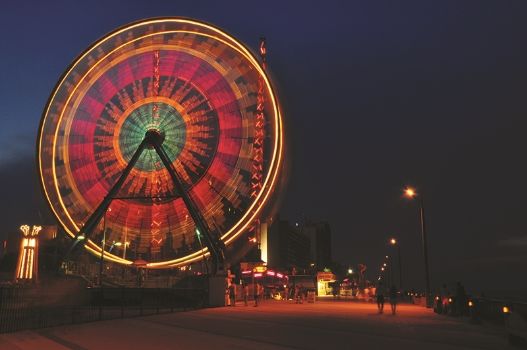 Whether you are looking for a place to bring the whole family, or the perfect spot for a romantic getaway, Daytona Beach has lots of great options for your perfect vacation. There are tons of Kid friendly options plus lovely romantic places – something for everyone!
Take a trip and if you do tell me about your Daytona Beach adventure. Where did you go, what did you do and much fun did you have? If you are ready to plan your own trip take a look at these Free Things to Do in Daytona Beach
Give me a shoutout on Twitter and let @SpaTravelGal know how you #LoveDaytonaBeach!