Spa Week Gift Cards Provide Relief from the Stress Epidemic – Five years after the worst economic collapse since the Great Depression, many Americans are still living a "post-recession" lifestyle. Countless studies show that this never-ending, physical and mental strain can lead to a number of severe health problems. The bright side, however, is that even the most stress-inflicted workers can lower their risk of disease by simply practicing healthy habits. As research shows, this most definitely includes regular spa visits most certainly some with spa week gift cards.

According to the International Spa Association, 72% of spa goers in the past year said their stress levels influenced their decision to visit a spa.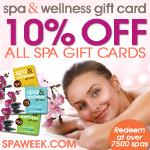 Spa Week's Fall 2013 Event will take place from October 14th – 20th when hundreds of spas (day, medical and resort), yoga and Pilates studios, and fitness and wellness centers will offer up to three signature treatments for just $50 each. Featured services are valued at anywhere from $100 to $500. Holistic healing and natural therapies including Ayurveda have been used for centuries to help counter the effects of stress and better overall health and well-being.
Visitors to SpaWeek also have the opportunity to give the gift of wellness by conveniently purchasing the Spa & Wellness Gift Card by Spa Week. Accepted at over 7,500 spas and wellness locations across North America and never expire, Spa & Wellness Gift Cards may be used during any time of the year. Recipients will have the freedom to choose from thousands of locations and services, all while knowing that you have their long-term health and happiness in mind.